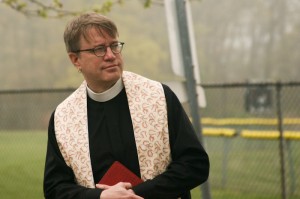 When I was young, a distant cousin was convinced that Skylab, falling out of orbit, would fall on her home and kill her. The threat was not real, but her fear was. It changed her behavior for several weeks, making her world a small and threatening place.
On 9/11, I walked from lower Manhattan, back to my home in Queens, crossing with thousands the Queensboro Bridge. Exhausted, anxious, at the bottom of the bridge I discovered merchants from that neighborhood handing bottles of water to anyone who would take them. Ironically, most of these merchants were Pakistani, and would find themselves anxious and afraid in the coming weeks as violence against Sikhs and Muslims spread throughout the country. I would succumb to fear as well, experiencing panic attacks when I was in high profile sites listed as potential targets by law enforcement and the news media.
Fear is a powerful thing, a weapon that is used all too often, to drive up ratings, to incite violence, to gain political advantage.
Ebola is a terrible disease. It has been around for years, and has reached epidemic proportions in West Africa, a region with repeated civil wars and ethnic conflict, with distrust of government, and with health systems that are primitive by Western standards.
There have been two cases of Ebola transmission in the US. Both cases involved nurses who had direct contact with the bodily fluids of a patient who contracted the disease in West Africa. There has been no casual transmission of the disease in the US. And, so far, the other cases treated here, those originating in West Africa and the two domestic cases, have not proved fatal. The first two patients have recovered, and one has contributed to the care of others.
Reputable news outlets have played a contradictory game with this crisis. I regularly watch ABC News, where they tease the great disaster one moment, only to have their in-house expert, a former Acting Director of the Center for Disease Control, play down those fears the next. Less reputable news outlets have manipulated the situation to further their extremist agenda.
Have you wondered why Ebola is the focus, and not Enterovirus 68, which is actually spreading throughout the United States, killing and crippling children? Could it be because Ebola originates in Africa, playing into the racist fears flamed by extremists in recent years? Is this one more case of "fear of the black man," no different than the false charges that our current president takes too many vacations, a charge meant to invoke the "lazy black man" trope of the Jim Crow South? (When in fact, he takes fewer vacations days out of the White House than his predecessor.)
There are enough things to make us anxious without being lead into fear by those with an agenda, whether it be profit or politics. And fear changes us. We are less ourselves. A society gripped in fear turns violent, seeks scapegoats, from Kristallnacht to the murder of Sikhs after 9/11.
Be informed. Use common sense, both is responding to health concerns, and in choosing your exposure to the poison of fear-mongering. And remember, if we trust in our God and in the promises of Jesus, then we can choose to live into his instruction to those who would follow him. "Be not afraid."
Blessings,
Pastor Gary