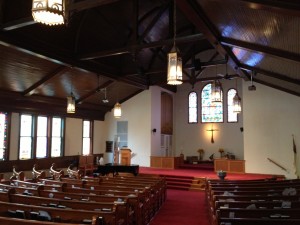 OUR WEDDING POLICY
Recognizing that some Christian denominations refuse to celebrate the covenant of some couples, the Board of Deacons of Sayville Congregational United Church of Christ voted in 2011 to offer wedding services to all at the pastor's discretion. We welcome same-sex couples, opposite-sex couples, as well as those who have previously been married.
YOUR CEREMONY PLANS
A wedding ceremony is a time of worship in which two people celebrate their covenant before God and the people of God as represented by family and friends. It is your responsibility to schedule a preliminary appointment with the minister and musical staff as soon as your date is confirmed. The church office will assist you in this.
CONSULTATION WITH THE MINISTER
The minister will work with you to develop an appropriate Order for Marriage using United Church of Christ guidelines.
MUSIC
The musical staff of this church will play for your wedding unless they are unable, in which case we will help you find a substitute. There is a pipe organ and a grand piano in the Sanctuary; either or both may be used for the service. The music staff will work with you to provide appropriate and meaningful music.
FLOWERS AND CANDLES
You are responsible for providing the floral arrangements and candles. Day and time of floral delivery must be worked out with the church office so that the building will be opened. You are invited to leave your floral arrangements for Sunday worship; please advise the church office if you wish to do so. All other decorations must be removed immediately after the service.
PHOTOGRAPHS AND VIDEOS
We request that guests refrain from taking photographs during the ceremony, and it is your responsibility to inform your family and other guests of this policy. However, if an experienced photographer has equipment and skill to operate a camera or video recorder that does not pop, flash, or otherwise distract from the service, that person may be allowed to record the event discreetly. Before and after the service the couple may have as many pictures taken as they wish. We recommend Ray Foster Photography (http://www.rayfosterphotography.com) for all of your wedding needs.
FACILITY USE
The Vestry is available for small receptions, and the Fellowship Hall for larger receptions. The use of these buildings may be arranged with our Church Secretary. There will be a fee charged.
FEES
Sayville UCC does not charge Covenant Members for the use of the buildings or for the services of the minister. However, it is recommended by the Board of Deacons that an honorarium be given to the minister for his services in the amount indicated below. It is also suggested that all financial transactions be concluded by the time of the rehearsal and not left to the day of the event. This helps avoid embarrassment on the part of the wedding party and the church personnel.
The Organist and Custodian are to be paid separately for their part in your wedding ceremony. The fees for their services are listed below.
Covenant Members (active members who worship and contribute)
Minister $250*
Musician $150
Custodian $50
Sanctuary rental $100*
Vestry rental $100*
Fellowship Hall rental $100*
with kitchen use $150*
*Recommended by Board of Deacons
Non-Members
Minister $350
Musician $150
Custodian $50
Sanctuary rental $350
Vestry rental $200
Fellowship Hall rental $350
with kitchen use $450
There is a $150 supplemental fee for both the pastor and the musician for holiday weekends, as well as for off-site weddings.
DEPOSITS
A non-refundable 50% deposit is due for building rental at the time the reservation is made. This allows us to hold your space without risking loss of other rentals. Similarly, a non-refundable deposit of 50% of the fee is due for the services of the minister and musicians when their participation is confirmed. This allows them to reserve your date and turn away other engagements.
The Church Administrator will instruct you on deposits and final payment.
ADDITIONAL POLICIES
Wedding parties that wish to throw rice are expected to sweep all rice from sidewalks and walkways before final departure. Use of birdseed as an alternative to rice is encouraged.
Wedding parties that are not on-site ten minutes prior to the wedding may forfeit their rite without a refund. Services will begin on time except in extraordinary circumstances, in which case additional fees may be charged. Please inform guest and participants.
Please help us maintain a Tobacco-Free/Smoke-Free campus.
Electronic cigarettes are also prohibited.