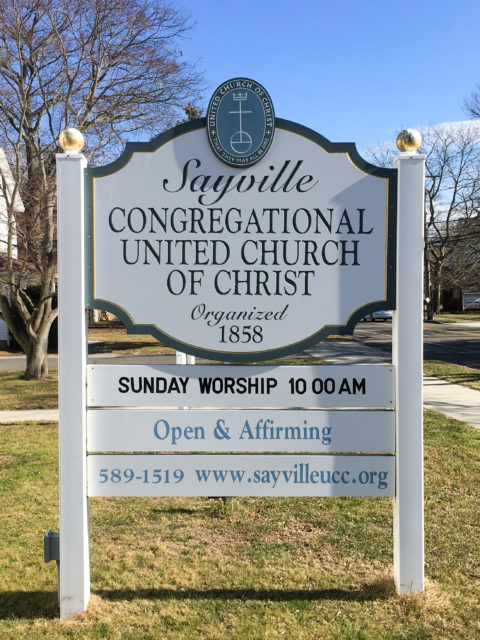 c
Welcome to Our Congregation!
This is the place you are welcome,
long before you arrive!

eChimes for April 25, 2017
Be sure to check our Calendar Page for all events!
---

See all the photos from Easter at Sayville Congregational United Church of Christ at
www.inkairos.org (our online photo gallery).
---
JUSTICE CHIMES 




Sayville Congregational 

United

 Church of Christ




Justice Chimes, Our Justice Action Committee Newsletter


Ways to be in prayer, involved and engaged in Justice & Love!
View Here
---
Join us for "A Talkback!" in the sanctuary following worship. We begin 15 minutes after worship ends and finish by noon. All are welcome! 
---
Each Week's Events !
Bible Talks!  in the Vestry
Mondays at 11:45 AM & Tuesdays at 7:00 PM
Choir Practice  in the Vestry
Wednesdays at 6:00 PM
Having Friends Inn  Fellowship Hall
Mondays through Thursdays at 5:30 PM
NA Meetings  Fellowship Hall
Mondays and Wednesdays at 7:30 PM; Saturdays at 11:00 AM
Prayer Shawl Ministry  in the Vestry
Thursdays at 10:00 AM
Senior Exercise in the Vestry
Tuesdays at 9:30 AM & Thursdays at 12:15 PM
---
Gallery in the Sanctuary!
Joan Tavolott – Watercolor Artist (631) 472-0863

Joan Tavolott is a watercolor artist living on Long Island. She tries to paint or sketch something every day, preferring to do plein air painting. Joan can often be found painting out and about locally. In addition to local areas, she has painted in locations across the country as well as in Italy, Spain, France, Germany, Greece, Turkey, and Ireland. She loves to travel and paint capturing the beauty of new areas.​Joan works in watercolors, ink, and collage. Her work can be found in private collections all over the world. Joan is a member of the South Bay Art Association, the Wet Paints Studio Group, the North East Watercolor Society, the Patchogue Sketch Club, and the New York City Urban Sketchers.
---
Live Stream Video of Forum from April 2 with Sister Sanaa Nadim
On Sunday, April 2, 2017 – Sister Sanaa Nadim, Muslim Chaplain from Stony Brook University spoke with our congregation about the Muslim Faith and ways in which we can strive to build bridges together, through better understanding and collaboration. A video of the the 90 minute forum, along with questions and answers from those gathered can be viewed here: http://bit.ly/2oPL5Nj or on our Facebook Page at https://www.facebook.com/sayvilleucc/ Fast forward to 15:00 for the beginning of the live streaming that was recorded.
---
An easy way to support Sayville Congregational United Church of Christ
Stop & Shop Cards are available at coffee hour each week. They make great gifts and/or a great way to purchase your groceries while supporting your church.
 Newsletters: Are you receiving our weekly newsletters: eChimes and eChimes Justice Newsletter? Fill out the card in this bulletin or email ray@sayvilleucc.org or visit our website any time to read current and past newsletters at www.sayvilleucc.org. Do you need these in print? Let us know: ray@sayvilleucc.org