Suicide Prevention Hotlines and Resources. Please call before you act! We love you!

Sayville Congregational United Church of Christ
Worship with us on Sundays at 10:00 AM
We Are a Welcoming & Affirming Congregation
---
Beat Boxing Workshop for Kids Ages 8 – 16; October 13-15, 2017
Featuring BEAT GLOBAL
Create a Dance Club Sound with Just your Voice
Click here TO REGISTER
Click here for a FLYER with more information
---
INSTALLATION WEEKEND
Celebrating the Ministry of
Sayville Congregational United Church of Christ
Saturday, September 30, 2017  & Sunday, October 1, 2017
Installation of Rev. Ray Bagnuolo as our 19th Pastor!
Please join us!
Installation Service is Sunday, October 1, 2017 at 4:00 PM
followed by refreshments and conversations.
Installation will be preceded by an Ecclesiastical Council
of the Suffolk Association of the United Church of Christ at 3:00 PM
---
CHERRY GROVE TRIP ON SATURDAY, SEPTEMBER 30th



>>>We will meet at 12:30 PM at Sayville Congregational United Church of Christ<<<
131 Middle Road, Sayville, NY
We will drive or car pool to catch the 1:25 PM ferry to
Cherry Grove at Sayville Ferry Service
41 River Road, Sayville, New York for
Lunch in Cherry Grove, Fire Island
Parking will be free for our gathering. Please park in the Freight Parking Lot
Look for Judie Jayne out side the lot with the sign "Park Here!"
Thanks, Judie.
Ray has invited our congregation, friends and all those in town
to be his guests for lunch. Lunch will be at Cherry Grove Italian Restaurant,
followed by Ice Cream at Sweet Licks, with time to wander Cherry Grove,
walk the beach or relax at the home of his friends.
The weather will be fabulous! So, please plan to join us.
We expect to return to Sayville on the 4:50 or 6:50 PM ferries.
Special dietary needs? Please let Ray know at ray@sayvilleucc.org
---
SUNDAY, OCTOBER 1, 2017
10:00 AM Worship and Communion:
Rev. Jim Rigby, St. Andrews Presbyterian Church, Austin, Texas will bring the message.
11:30 AM: Talkback with Jim and gathered friends.
12:30 – 2:00 PM
Free time, lunch and "hanging out."
The parsonage will be open for people to gather before the installation service, as well.
2:00 – 3:00 PM: Choir Rehearsal
Everyone is invited to be part of the choir for the installation service.
We will have an open rehearsal beginning at 2:00 PM. Please join us.
3:00 PM: Ecclesiastical Council
This is a time for Ray to share his faith journey and respond to questions
from members of the Suffolk Association, United Church of Christ, New York Conference.
4:00 – 5:30 PM: Installations Service
Rev. Dr. Jane Adams Spahr, Lesbian Evangelist Emerita,  San Francisco, California
will bring the message.
5:30 PM – 7:00 PM
Following the installation we will gather in the Vestry for refreshments and sending forth, thanking all those who have joined us from near and far.
Please join us!
---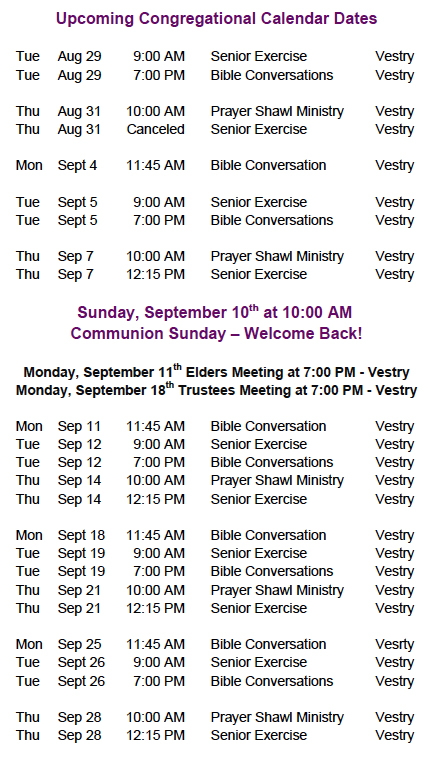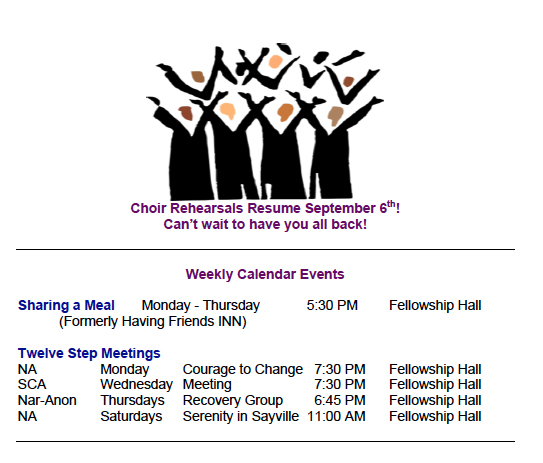 ---
An easy way to support Sayville Congregational United Church of Christ
Stop & Shop Cards are available at coffee hour each week. They make great gifts and/or a great way to purchase your groceries while supporting your church.
Newsletters: Are you receiving our weekly newsletters: eChimes and eChimes Justice Newsletter? Fill out the card in this bulletin or email ray@sayvilleucc.org or visit our website any time to read current and past newsletters at www.sayvilleucc.org. Do you need these in print? Let us know: ray@sayvilleucc.org